Activities for the management of Skadar Lake vegetation in Montenegro through biomass collection and production of fuel briquettes have been initiated.
A field visit on 25-27 January 2017 marked the initiation of the pilot activity "Multipurpose management of Skadar Lake vegetation through biomass collection and production of fuel briquettes in Montenegro – Phase 1".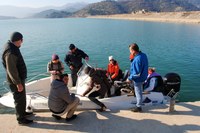 The activity will assess potential for utilization of different biomass in the wider Lake area (possibly obtained as result of vegetation control measures) for the biofuel production and it will design test use program (e.g.to heat one of the facility within National park borders).
Staff of the Energy Institute Hrvoje Požar -EIHP, Zagreb, Croatia, along with the Global Water Partnership – Mediterranean (GWP-Med) Officer stationed in Montenegro participated. During the three days of their first visit in Montenegro the experts had the chance to discuss the pilot activity implementation with key stakeholders, collect information and comprehend the specificities and complexity of the natural and anthropogenic system on which they will work.
The team of Experts provided details about the Pilot among others to the National Park authorities, the Ministry of Sustainable Development and Tourism and the Environmental Protection Agency. The management practices, issues related to biological monitoring, spatial planning as well as the legal framework within the boundaries of which the activities will be implemented were explained by the national authorities.
During January 26, a field visit to the National park Skadar Lake allowed the experts to obtain valuable insight to important aspects of the ecosystem. Potential biomass types and availability along with other relevant to the activities technical aspects, such as the heating system of the National park facilities, access roads condition etc. have been screened.
Particular data collection needs for the pilot implementation has been discussed and agreed. The experts used the opportunity of the Consultative meeting of national stakeholders: Management of the Skadar Lake in accordance with the provisions of the European Union Water Framework Directive (January 27) to collect additional information related to their work. Outputs of GIZ activities implemented in the Skadar Lake area were presented in this workshop.
The Pilot (and the field visit) is implemented as one of the activities under the Output 11 (Program of on the ground pilot demonstrations will deliver tangible results using quantifiable Indicators) of the GEF Full Size Project: "Enabling transboundary cooperation and integrated water resources management in the extended Drin River Basin", by GWP-Med.
You can find here the Agenda of the EIHP Field Visit to Montenegro.